Aaron Gudmunson's "Pig Roast," which is the closing bookend for Wrapped in Black: Thirteen Tales of Witches and the Occult, is one of the most delightfully disturbing and creepy premises in the whole thing. I might or might not (spoilers: might!) have spent a huge amount of time in the '90s reading and posting to alt.ketchup and alt.mustard on UseNet so it's possible this one has a very special place in my heart or other organs; and this story, in addition to being really fantastically effective horror, is so deliriously weird it would have real trouble not charming the hell out of me. In addition to this, he's written novels and published many short stories in a variety of other prestigious anthologies.
Michael: Wrapped in Black is an anthology of stories about witches and the occult so let's get right down to the meat: do you believe in magic and the powers of those who claim to practice it? There's no wrong answer, of course, but if you say yes and then don't tell at least a little of the story I am going to be serving some serious side-eye.
Aaron: I've known people who claim to actually be witches. They say they use certain natural ingredients to concoct potions and talk about being able to weave words into spells. Personally, I've never experienced magic – unless a witch has used a spell to erase my memory.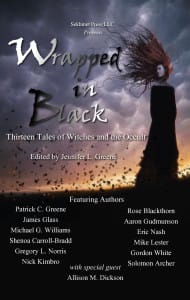 Michael: Why horror?
Aaron: My parents always had Stephen King paperbacks lying around and anytime we took a trip to the supermarket, I dragged them to the book aisle so I could check out all the scary covers. I recall wondering why anyone would pay to be terrified. It took many years to why we do it – because it's fun when we know it's not real… and when it's happening to someone else.
Michael: As writers, we're supposed to be tired of being asked where we get our ideas. (Personally, I love hearing myself talk.) Thus, I'm not asking that: I'm not asking from where in your brain your ideas come (unless you want to tell me). Instead, I'm curious as to whether there's a physical location or activity you find particularly helpful. For my part, I go running when I need ideas. There are specific trails and dark wooded places where I can put my body to work on that repetitive task and my brain will eventually start coughing up inspiration.
Aaron: There's a cemetery in my town that's supposed to be very "active" in that people claim to have experienced strange events within its high iron fence. The only activity I've experienced there was a general spurring of the imagination. It's certainly a place for inspiration, so anytime I need some I merely take a stroll among the headstones.
Michael: What work (horror or otherwise) do you most wish you had written, and why?
Aaron: At about age 10, I fell in love with "The Monkey's Paw" by W.W. Jacobs. We read it in school and I remember thinking the story was so perfect I wished I'd thought of it first. I still feel that way, nearly 30 years later.
Michael: You and your favorite writer are stuck in an elevator while repair crews try to rescue you. What do you ask them? Do you have a grand time together or do they eagerly anticipate their escape?
Aaron: I imagine they'd find Steve King and me sitting cross-legged on the floor of the car, sharing a bag of Funyuns, and talking shop. By the time the crews got the doors opened, I'd have thoroughly picked his brain and would likely rush home to apply his sage advice to my work in progress.
Michael: What's next for you? How can we keep up with your goings-on?
Aaron: I'm currently working on a novel to act as a companion to my debut novel Snow Globe. It's not a prequel, per se, but it takes place in the same small town with many of the same locales and legends. As a matter of fact, it's the same town in which "Pig Roast," my contribution to Wrapped in Black, takes place. I can't seem to escape this haunted town!
Readers can find out more about me and my work at www.aarongudmunson.com, on Facebook, or on Twitter.