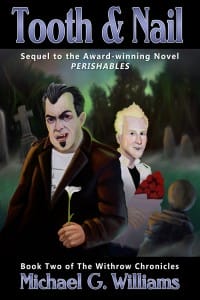 I've had my head buried in grad school this month but I also have some super-fun news: the editing and cover design for  are done and I'm waiting on Smashwords and Amazon to look them over. If everything is successfully vetted then I'll officially make it available this weekend and it will get pushed out to Nook/iBooks/etc. in the next week or so.
Yesssss!
My current plan is to set the price of Perishables to $0.99 US and offer Tooth & Nail at $3.99 US. It's a substantially longer book – roughly 85K words as opposed to Perishables' ~55K – but I don't want to nearly double the price by going to $4.99. That price simply feels too high and if my experiments last year have taught me anything it's that pricing is at best an intuitive art: science has no place in it.
In the meantime, I'm working on short stories to submit to two different anthologies.
One is a "theme-thology" in which every story must have invasion as a theme. For that I'm writing a vampire short story set in World War II titled "The Several Monsters of Sainte-Sara-La-Noire". I should be wrapping up the first draft of that one this weekend and submitting it in the next week or two.
The other is for an anthology of vampire stories being published by Sekhmet Press, an independent publisher in the Asheville, NC, area. I'm going to submit a short story titled "Daddy Used to Drink Too Much". I'm feeling a strong 1930's Depression-/Prohibition-era mountain setting for that one. The details aren't all worked out but I've got the concept and I want a setting that reflects the bleak emotions on stage at the outset.
Does this make me a guy who writes vampire stories? I guess so, and I am A-OK with that; so is my inner 7th grader, who has perpetually just finished Dracula for the first time and whose mind has been totally blown. Today I sent a friend request to one of my favorite vampire writers, P.N. Elrod, and it was accepted. Oh, Facebook: sometimes you do sincerely thrill me with fanboy shivers!